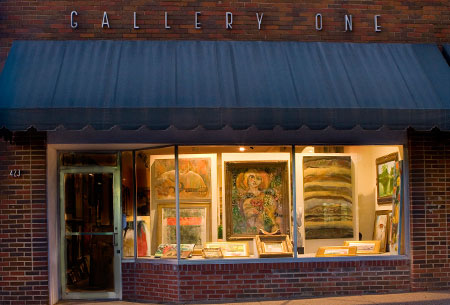 Gallery One Fine Art is located in "Old Cloverdale" Montgomery Alabama. The gallery was designed to create exhibition space conducive to the art experience. Gallery One offers a wide selection of original art by gallery artist members. Style and price accommodate every taste and budget. An Alabama not-for-profit cooperative gallery consisting of a maximum 35 member artists, Gallery One is actively engaged in the community. This is explained further by the Mission Statement: Raising public awareness of the arts through recognition of talent, motivation to create and education.
Gallery One joins with local art teachers providing their students the opportunity to exhibit their work in the gallery environment. In addition, the Savannah College of Art and Design has held its annual student information session in the gallery. High school art students with their parents and teachers have gathered in Gallery One to plan the next step of their art careers. Gallery One is also used by morning exercise classes and a yoga class. Other art organizations use Gallery One for book signings, poetry readings, flower arranging classes and civic club meetings. The Gallery One membership is happy to donate its space as a way of establishing a neighborhood arts environment. Gallery members also give of their time, serving as speakers and judges for various art and civic events.
Gallery One has opening receptions for new work during the year. Gallery events are on the second Thursday of the Month from 5:30 until 7:00 in the evening.
Gallery Hours

Tuesday - Friday 10:00am - 4:00pm
Saturday 10:00am - 1:00pm
Or call for an appointment
info@galleryonefineart.com
423 Cloverdale Road ::: Montgomery, AL 36106
PHONE 334.269.1114